Institute for Apiculture Celle
The Institute for Apiculture Celle is an expertise centre for all matters of apiculture as well as related areas such as plant protection and agriculture. In the apiculture institute there are ten female workers and 16 male workers employed, as well as eight trainees, in the areas of bee-keeping, lab work and administration.
Due to its work in the areas of advanced training, research and development, extending beyond its own region, the Institute for Apiculture has gained international recognition. Honey bees are of great ecological and economic importance because of their pollination. To ensure pollination in all areas, it is necessary that bee colonies and of course apiarists are evenly spread in the areas.
The Apiculture Institute, by working in the areas of:
schools for apiarists in and beyond the region
courses for further advanced training
consulting
disease diagnostics
testing of honey
testing of pesticides
research and development
lends support to bee-keeping, so that the bee colonies even in problematical situations, can operate optimally and adeptly. Raising an awareness of the significance of bee-keeping is a focal point in public relations work.

Lower Saxony State Office for Consumer Protection and Food Safety
Institute for Apiculture
Herzogin-Eleonore-Allee 5
D-29221 Celle

Phone: +49 51 41 905 03-40
Fax: +49 51 41 905 03-44
poststelle.ib-ce@laves.niedersachsen.de
Here you will find directions to the Institute for Apiculture Celle.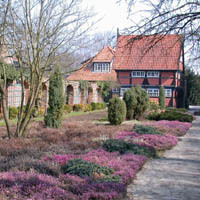 Institute for Apiculture Celle